Books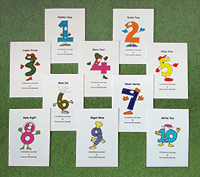 The first ten Numberline Lane books (Walter One to Jenny Ten) are now available. Since you can't flip through the books on-line we've included some sample pages from the books.
The books are A5 (147mm×210mm) in size and are printed on semi-glossy paper with glossy covers. Each book comes with a separate sheet of questions and discussion points relating to the story.
Order Books
To order books, please use our online shop. There are various payment options, and if you are ordering for a school we can send the books with an invoice.







Buy from us in person

You might also find us at various craft shows in the South East - look out for our colourful book stall!